comments 0
06 December, 2012
Segmen Follow and Followback by Puteri :)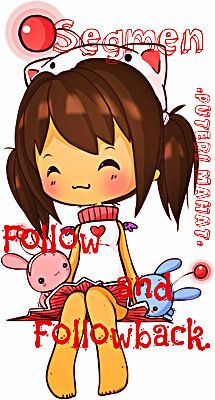 Nak join? Gambar di atas bakal mendirectkan anda :)
*SORRY, KITE TAKDE TWITTER*
Nama:
Aisyah Fharihin bt Rahmat Azam
Sweet memories on 2012:

Jamuan Akhir Tahun kelas :') sedih pun ada..
Blogging since:

May 2010 (tapi byk blog dah delete)
Crush. Yes or no?:

Yes! Melambak
Still love your ex?:

Tak pernah ada pon -,-
Is there second chance for your ex?:

Mestila tak dak
Interest with Kpop?:

Used to, tapi skrg tak anti.
Bestfriends:

Semua orang!
Has someone break your heart?:

I think nope :D
Someone important:

My parents and friends
Last time you cry:

On Saturday, 1.2.2012 (watching P .Ramlee's life)
Do you like my blog?:

Yeah!
Any changes that I should do to my blog?:

Tambah navigation tab maybe? :)

Cerita
Cinta Bersemi di Putih Abu abu
best tak? Kevin Lukas tuh..

Sekolah Menengah punya life fun tak? :D

Akak, minat makan choki-choki tak? *Tak dak kena mengena*

Diri stress tak nak PMR dan nak tunggu result?

Sweet moment dengan
*tut*
? >.<
Kalau nak comment, akak send message kat Cbox yea?
Macehh... :D